Well, the paperwork was turned in on Friday! I thought that day would never come! It felt like a giant weight was lifted. I am anxious to get the interview/homestudy process started. At the same time, I am completely stressed and exhausted. Brandon's manager is going out of his way it seems to make things difficult for us. The agency needs a letter from him as a reference, and he refuses to do it. The process cannot move forward without that. I am getting terribly frustrated. It's also frustrating that the agency won't work with us on that...what else am I supposed to do? Please pray that his manager will have a heart for 5 minutes and do this for us. So, right now we are still waiting for all of the paperwork to come together. The agency hasn't yet received our psych evaluation (I'm frustrated with that, too, because we had that done in February!), and they'll be doing 3 more background checks. ALL of the paperwork has to be together, complete, and perfect before we can start the interviews. PLEASE pray that these things come together very quickly so that we can begin! We have worked too hard to have our process delayed because people want to drag their feet. I know, I know...God's timing. If you know me at all, you know that I am NOT good at waiting on other people. Especially when there's no excuse to procrastinate! Get it done, people!
On the upside, I had a fantabulous weekend. Yes, that's a word. I created it I think. Saturday, I went to the Southern women's Show with my best friend, Jennifer. Then we had dinner and went to see The Last Song (if you see that movie, do NOT forget your tissues!). We had a blast! It's been SO long since I had a girls' day out! I haven't laughed like that in forever! Then Sunday, Brandon and I went to the zoo with Jennifer and Abby. That was so fun! Abby is a hoot, and she kept us laughing all day! I am still exhausted from my "crazy" weekend, but it was so worth it. I needed it! I am so blessed to have Jennifer as a friend...she is always there for me. It's been a long time since I had a friend I could truly rely on, even when it's inconvenient for her. :) Love ya girl!
Work has been crazy busy lately. I have been cleaning out one of my supervisor's offices. Her office is ridiculously messy. I'm talking papers and trash from the floor up...no exaggeration. Have you ever seen the show "Hoarders: Buried Alive?" Yeah. That bad.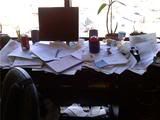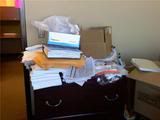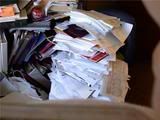 There's a chair under all that somewhere...