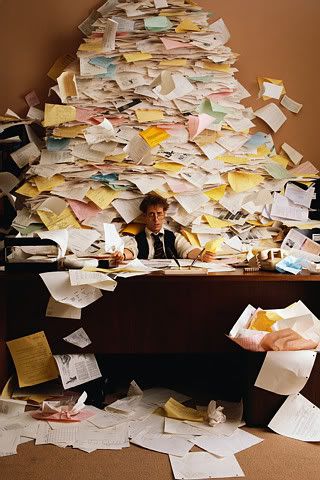 We just got home from our adoption orientation, and I must say, this picture is pretty much exactly how I feel. I am completely overwhelmed, but mostly in a good way. Our orientation lasted all day long (8:30am-4:30pm). We got lots of information, and we have tons to talk about. We also got to hear several adoptive parents speak, which was wonderful. They were wonderful and very realistic, telling us not only about the great, fun, exciting things, but also about the hard, trying times that adoption is sure to bring along with it. We have an entire folder full of forms, instructions, letters to write, documents to compile, and so on. We have to have background checks, fingerprints, drug testing, physicals, vaccinations, get the pets up to date on vaccinations, and yada yada yada. It's a LOT of papers.
One of the things that I learned today was that every single couple goes through pretty much the same emotions. We all have, at one point or another, the same questions, same concerns, same frustrations, and same hurts. Every journey is different, but it's nice to know that we aren't the only ones who wonder if we'll REALLY feel like the baby is ours. Brandon struggles with that more than I do. I have always had a big heart for kids, since I grew up living with foster kids. But Brandon didn't. He always thought that we would throw out the pills, get pregnant and it would be that easy. He's having a hard time coming to terms with it, and he sort of feels like this is a last resort, for lack of better words. The excitement hasn't quite settled in for him like it has for me, but I've always known I would have a hard time getting pregnant, so I had years to prepare my mind for this. So, if you think about it, say a prayer that God would give him peace and soften his heart. He knows this is what God wants for us, but he still feels frustrated. He still wonders why so many terrible parents can reproduce like bunnies, but we can't.
On a lighter note, we are going to Babies R Us tomorrow to look at some furniture and bedding! Who knew that baby bedding could be so exciting???? I know, I'm a little early on it, but that's me...I get ahead of myself when I get excited. I always have to be doing something...I hate waiting until the last minute. So, with this, I want to get started and take it slow and thoroughly enjoy preparing our baby's space so it is absolutely perfect! We have so much to do around the house before we bring him or her home, so who cares if I'm jumping ahead? I've waited for 3 years to plan for a baby, and by golly, I'm gonna enjoy it!!
God bless!!